I love old classroom prints and posters! They are a checklist of past interests and lifestyles and I'm happy to give them a space on my walls. I seek out French and British prints as well as mid-century advertising and can recommend adding vintage artwork to a room for a unique vintage focal point. Below are a few of my current favourites...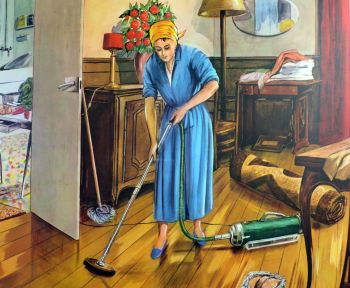 Spring Cleaning?
This 1950's French housewife stars on one side of an original classroom poster. The reverse shows the happy return of her husband to a sparkling kitchen and happy children. Just like my house...
These prints are fabulous for adding a quirky vintage theme to your wall. They were used in French classrooms throughout the 1950's and 60's as talking points for the children. Unlike their British counterparts, these show a much more realistic view of life - from cleaning to car crashes. Yes. Really!
In the shop you can find quite a few of these double-sided posters, alongside, (my favourites), 1950's prints by Helene Poirie. These too were used in classrooms but are more decorative in style and often use a limited palette of colour.
| | |
| --- | --- |
| | |
| Detail from Place Du Bourg by Helene Poirie. | Detail from a double-sided poster - Washday/Car Crash. |
In the UK, the 1930's saw the production of a series of prints that idealised childhood and the natural world. A theme that Eileen Soper continued with her illustrations for the Nature Series, created for classrooms by Enid Blyton in the 1950's and 60's. These prints also add a unique style to a room with their bright colours and nostalgic imagary.
There's such a variety of subject matter in these vintage classroom prints that you can find one for any room in the house. Frame one up and brighten up a wall this spring!